Nigeria's President Goodluck Jonathan has charged the Super Eagles that the nation is waiting for the African Cup of Nations, urging them to prove to the World that Nigeria is back to the league of top football nation.
He spoke to them through a televised live conference which saw the players engaging the president one bu one in conversation.
Jonathan's message came as two Football arch rivals on the African continent are poised for victories in their respective semi final matches today, looking forward to a major war of pride and honour in the finals of the African Cup of Nations, coming up this Sunday.
Nigeria and Ghana are being tipped to carry the two flags of their nations on Sunday as almost 100,000 gather in and around the Johannesburg Stadium to watch a scintillating African Cup of Nations final on Sunday.
Nigeria will face the Aiglons of Mali in Durban Wednesday while Ghana is set for a big war with Burkina Faso in Mbombela Stadium in Nelspruit .
Black Stars were semifinalists at the last competition in Gabon and Equatorial Guinea where they lost to eventual winners, Zambia, the Burkinabe's exited at the first round, making their run thus far in the South Africa competition a fine one. Nigeria was not featured which made this year's AFCON cup a must win for the Super Eagles.
Many football pundits are already predicting a Nigeria and Ghana final, looking forward to a major soccer encounter, the two rival nations having for long laid claims to superiority on the field of play.
Today's duel will prove if such war would be imminent, come next Sunday.
Nigeria president, Goodluck Jonathan on Tuesday in a major moral boosting effort held a television conference with the
Super Eagles assuring them of the nation's full support and expressing he wanted the cup in Abuja.
The President and Commander-in-Chief of the Nigerian Armed Force in the chat addressed the players and officials, asking after their health and readiness for Wednesday's game. He spoke to the players one after the other.
NFF President, Alhaji Aminu Maigari, was on hand to moderate the event in Durban, ably assisted by Chairman of the NFF Technical Committee, Christopher Green.
Jonathan told the team that the Nigerian government on Monday, commenced the centenary celebration of the amalgamation of the Southern and Northern Protectorates of the country and Lagos Colony, which today is what is called Nigeria.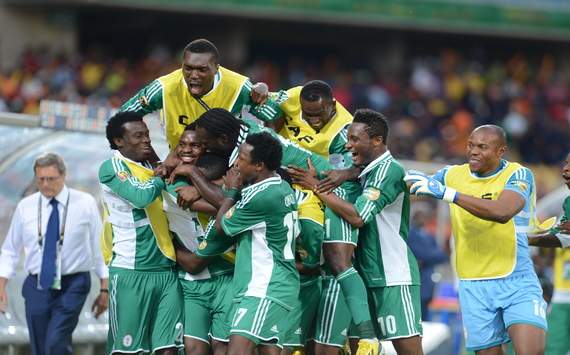 "We are Battle Ready",  Stephen Keshi Assures Nigerians 
Nigeria coach Stephen Keshi has said that Sunday's victory over Cote D'Ivoire had not gotten into his team's head and that they will not underrate Mali in the semi final of the Africa Cup of Nations in Durban this Wednesday.
Wednesday's game comes after the Super Eagles surmounted all odds to beat tournament favourites, the Elephants, 2-1 in a technically sound encounter in  Rustenburg.
Even though the Malians are ahead of Nigeria on the Fifa global rankings, the Super Eagles are being tipped for a win having seen off top-ranked Ivory Coast.  But Keshi, who used to train the Malians, says it won't be a walk in the park.
"I don't know about being favourites to win the game or the championship, all I know is that we're playing a very good side of Mali. I know at least 85 per cent of them played with me for almost two years, it's not going to be easy. We're here to play game after game until the end of the tournament," said Keshi at Tuesday's pre-match press conference.
Excited to be meeting the Malians that he failed to get past the group stage of Angola 2010 with, Keshi said that "it's a good feeling."
The Super Eagles will be welcoming back midfielder Fegor Ogude to the team after he served his one match suspension due to two yellow cards. His place in the team was hardly missed in the game against Ivory Coast as youngster Ogenyi Onazi held his own in the holding midfield role.
"Fegor Ogude should be back after his suspension but we're trying to build our team, we want to build our team around everybody.  We'll see what happens tomorrow, if he's going to be there or not," the trainer said evasively.
Having been tournament underdogs, Keshi said he's pleased with his team's progress since he took charge of the team in 2011.
"The progression of the team is gradual. This is a team that has been together for four weeks. We'd been coming together on and off during the qualifiers but we really didn't have much time to spend together.
"For you to build a team, it can't happen in a month. You need a minimum of three years but it's coming along well and I like what I'm seeing. We just have to be patient," he said.
A place in Sunday's final awaits both teams. While Nigeria last featured in an AFCON final in 2000 when they lost to Cameroon in Lagos, it has been 41 years since the Malians played in the tournament's championship game and this should throw up a massive encounter as they seek to win their first ever continental title.
 Goals.com
 What Nigerians Must Do To Defeat Mali
Keep Omeruo, play Mikel defensively – the five things Nigeria must do against Mali
The Super Eagles on Sunday in Rustenburg proved naysayers wrong by beating the top seeded team in Africa but they must prove it again against the Eagles of Mali on Wednesday
The Super Eagles roused themselves last Sunday to beat overwhelming Africa Cup of Nations favourites, Cote d'Ivoire 2-1 and get a berth in the semi-final to play the Eagles of Mali. For the second consecutive edition, the Malians have knocked out the hosts in the quarter final. They subdued Gabon last January to end up in third position.
The stage is set and the prize could not be juicier – the prospect of a final appearance against either Ghana or Burkina Faso on Sunday in Soccer City in Johannesburg.
Goal.com looks at five things the Stephen Keshi-led coaching crew must do to get Nigeria that final ticket.
 OMERUO SHOULD CONTINUE IN YOBO'S STEAD
Though Joseph Yobo is adamant that he is fully fit now, Stephen Keshi must not be tempted to bring him back into the central defensive department to replace Kenneth Omeruo. Omeruo showed against Cote d'Ivoire that he is ready to step into the shoes of the captain and the most capped Super Eagles player ever.
Keshi must take a leaf out of the 1994 triumph where he as captain played the opening match and that was it until the final when he raised the trophy aloft with stand-in captain, Augustine Eguavoen.
There is no need to be sentimental – Omeruo is quicker, stronger and hungrier; all attributes that help to get success. Moreover, there is a growing understanding between Godfrey Oboabona and the ADO Den Haag defender, whom he played with at Sunshine Stars before he travelled abroad.
SUNDAY MBA IS THE EAGLES X-FACTOR
There was no prepared dossier on Sunday Mba and his unknown quality is helping to unravel defences in South Africa. Mba, a striker by trade is using his striking instincts to run at defences from midfield where he has taken over from Nosa Igiebor.
He will continue to bring that extra to the Super Eagles at least until the end of Afcon 2013. As an auxiliary forward placed in a midfield role, Nigeria at times against Cote d'Ivoire played with four strikers which will trouble any defence line on any given day.
So as the Eagles prepare to face familiar foes in Mali, Keshi should continue to repose confidence in this Nigeria Premier League star. He cannot be stopped as he is relatively unknown.
MIKEL SHOULD CONCENTRATE ON DEFENSIVE DUTIES
With the clock at 85:12 against Cote d'Ivoire, Lacina Traore thought redemption had come when he trapped the ball inside Nigeria's six yard box but the next thing he knew, the ball had been knocked out for a corner kick.
That was Mikel Obi at his best. His DNA has been fine-tuned at Chelsea to sniff out attacks and snuff them out – that is where he is in his elements. Against Cote d'Ivoire, he played from deep instigating the Eagles' attacks and keeping a watchful eye on Yaya Toure, he will need to be that watchful on Wednesday as the Eagles take on Mali.
As he allowed Mba to get ahead of him into the final third and the Nigerian team profited from his selflessness. He put the team before himself and though he will not be remembered for that slalom-like goal from Mba, real football fans will remember that tackle on Traore and there will be smiles all around.
ONAZI SHOULD KEEP HIS PLACE AGAINST MALI
The Eagles needed pace and energy to combat the mobility of Yaya Toure, Salomon Kalou and Gervinho and he supplied it in abundance. Though he can be reckless at times with his tackling which is a sign of his relative inexperience, what he brings to the middle of the park is positive.
Playing in the Serie A with SS Lazio has helped him have the mentality of not giving away the ball carelessly and that has helped the Super Eagles as they transit from defence into attack.
Though he has not scored in the competition, he has shown all the qualities needed to help the Eagles achieve their goal in South Africa. Moreover, he has a lot of prayers backing him from The Synagogue camp as was attested to by his mouthing "I love you TB Joshua" to the camera after Sunday's game
APOLOGIES TO AMBROSE, HE IS DOING A TERRIFIC JOB
We cannot finish this preparative piece without asking for Efe Ambrose to forgive us for doubting his ability. And kudos to Keshi who has kept faith in the Celtic defender and persisted with him through all the criticism justly levelled at him when his performances were not up to scratch.
Efe has grown in leaps and bounds in South Africa as he grows into the right back role and against Cote d'Ivoire on Sunday – he literally put Kalou and Gervinho in his back pocket while venturing forward to help the attack. However, he needs to make his final delivery of the ball more inch perfect.
Goals.com