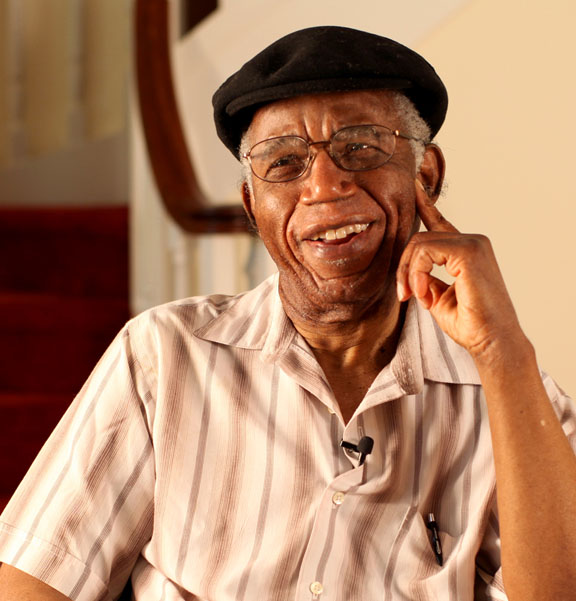 Renowned Nigerian author Chinua Achebe continues to be at the receiving end of his claims that the Ex Nigerian leader, General Yakubu Gowon and Former Finance Minister under his regime Chief Obafemi Awolowo  should be blamed for the failure of Biafra nation and the eventual loss of over one million people.
Achebe  stirred the hornets' nest  pointing accusing fingers to the duo  about the tragic losses incurred by Igbos during the last civil war. He, without a fair approach of the account  had  focussed on the negative perception  of the then  leaders who were preserving the honour and sovereignty of the Nigerian  nation. The duo also had warned of the consequences of the move to secede and the  devastating outcome if it was pursued. Both Awolowo and Gowon had pleaded to Late Odumegwu Ojukwu to drop his ambition.
In a new book published and due fro release in two day time, titled'There Was a Country', Achebe gave  an account  of the three year old Biafran  war and its   brutal aftermaths records. Over a million Igbos  allegedly perished during the war.
Achebe was then a roving cultural ambassador and Information Minister for Biafra, the South-Eastern area of Nigeria that attempted to break away in 1967, with lots of economic prospects and with the nation's wealth of oil staring as a potential ladder to greatness.
But the dream nosedived as Nigeria sovereignty was to be preserved through a brutal resistance of the attempt by Gowon's regime and his  team in government
Publishing the war memoir, Achebe claimed that Biafra lost the war because it was starved of certain essential necessities of life, especially food, placing the blames on the doorstep of Late Chief Obafemi Awolowo and the then Head of State, Genaral Yakubu Gowon.
According to Achebe, the late Yoruba leader, Chief Obafemi Awolowo and former Head of State, Gen. Yakubu Gowon initiated the economic policies that caused the deaths of over two million Igbo through starvation during the war.
Achebe added: "It is my impression that Awolowo was driven by an overriding ambition for power, for himself and for his Yoruba people. There is, on the surface at least, nothing wrong with those aspirations.
"However, Awolowo saw the dominant Igbo at the time as the obstacles to that goal, and when the opportunity arose – the Nigeria-Biafra War – his ambition drove him into a frenzy to go to every length to achieve his dreams.
"In the Biafran case, it meant hatching up a diabolical policy to reduce the numbers of his enemies significantly through starvation – eliminating over two million people, mainly members of future generations."
The top writer's claim however had drawn verbal daggers and several swords of angry  attack against him by those who said Achebe wass being affected by his old age,  claiming he is a victim of in infecting  old age bug,  hangover sand depression.
"Achebe till now continues to regret that the Igbos dreamed ambition was never realised and remains stuck in the stupor of that dream not bein realised. It is claimed he is yet to  come to terms with the abortion of such selfish pursuits, considering his high portfolio and stakes at the time", a London top lawyer said.
" As an old man, he should be pitied rather than being condemned because the shame of the failure of such ambition still hurts", said the  enthusiast on the social network, Facebook.
Some eminent Nigerians also attributed Achebe's outburst to his physical and intellectual frustration, adding that his  sheer bitterness for a lost dream and ambition had pepped up his  hatred for the Yorubas.
However, he has been thanked for expressing the long perceived  opinion of many Igbos  for long  who continues to feature during electioneering campaigns, which it has been claimed was the main purpose of the claims.
"Many Yorubas has never taken the allegation seriously, knowing fully it is a long held political lies  because it has been one of the main focus during electioneering campaigns used  to grab attention and pile up political score-points" claimed the source, adding that Achebe for long has been paranoid over Biafra failure and is obviously bitter because he was a prominent member of secessionist nation.
"He should  be pitied for expressing  his undisguised hatred for the Yoruba race and its leader, Chief Obafemi Awolowo. It is a great error he never said anything about what Awolowo did to prevent the civil war,"  enraged contemporary of Achebe and old educationist, Sir Olaniwun Ajayi, a leader of the pan-Yoruba organisation, Afenifere, said, adding it was a pity that a renowned writer like Professor Achebe could fall into what he called a great error of history.
"It is a great error, he never said anything about what Awolowo did to prevent the civil war," he declared.
Sir Ajayi said as part of efforts of Chief Awolowo to prevent the war, he led a delegation from the South-West to prevail on Chukwuemeka Ojukwu, but only for the late warlord to renege on his promise to Awolowo to avert the war.
He maintained that even when the Igbo ran away during the war, leaving their properties in the South-West and old Rivers State, those left in Rivers were treated as abandoned properties while Chief Awolowo made arrangements with estate managers, who managed the properties left for the fleeing Ndigbos.
Besides, he said the arrangement ensured that the owners of such properties were paid rent when they returned and the properties equally handed over to them after the war, unlike those left in Rivers state which he said were treated as abandoned properties, even till date.
He maintained that after the war, the Igbo were fully reintegrated in the South-West and enjoyed fair treatment up till today.
He said it was a matter for regret that Achebe was silent on such gestures, describing his outburst as most "unfortunate, outrageous and very uncalled for."
Former governor of Old Oyo State, Dr Victor Omololu Olunloyo said he suspected that Professor Achebe had a personal hatred for the Yorubas carrying it over to  Chief Awolowo because he (Achebe)  had been long infected by  a jealous bug. He referred to the nomination of Professor Wole Soyinka, a Yoruba man for Nobel award and his eventual emergence as the first African Nobel Laureate linking that Achebe was never happy with the choice. But he claimed Soyinke's choice was spot-on as an all-round literary giant.
"While Achebe writes only prose which can be extremely prosaic, Soyinka is into prose, poetry and drama. The richness and versatility of Soyinka's works cannot be compared with that of Achebe.
Olunloyo further said it was  very unfortunate that Professor Achebe could label Chief Awolowo as a tribalist tracing history that  both leaders,  Awo and Zik were members of the Nigerian Youth Movement.
"He cannot begin now to blame Awolowo for the war. Awolowo did not start the war; rather, he pleaded against it.
He added: " The civil war was started by the Igbo. The Igbo, in the course of the war, killed many Yoruba and Hausa/Fulani leaders, including Sir Abubakar Tafawa Balewa, Alhaji Ahmadu Bello, Chief Ladoke Akintola, Festus Okotie-Eboh and many officers, including Ademulegun, Maimalari, leaving out their own, like Micheal Okpara.
"Even while they were in government, (Ironsi's government), the Igbo spared no thought of freeing Awolowo who was then in prison. So, why should the man be labelled a tribalist?", he questioned.
Many Yorubas have been urged to disregard the claims and move on just spare no time  for pettiness and chauvinistic pursuits capable of creating a dangerous future for the nation and her future.