Ousted President Francois Bozize of Central African Republic  has fled to Cameroun as the nation which slide in anarchy following a coup struggles to get back on its feet.
There are reports that looters and gunmen are currently roaming the streets of the troubled  Central African Republic's capital, Bangui. On Tuesday , regional peacekeepers struggled to restore order two days after the  a coup, a situation that has cot South Africa the biggest casualty of the coup.
The mineral-rich country leader, President Francois Bozize was ousted by a coalition of rebel groups known as Seleka, and the political turmoil around the takeover has raised fears of a humanitarian crisis in the former French colony.
Thousands of Seleka fighters poured into the capital on Sunday, brushing aside a 400-strong South African force which tried to block their path. At least 13 South African soldiers were killed and 27 wounded.
On Monday, rebel leader and self-proclaimed president,  Michel Djotodia – who had accused Bozize of breaking past peace accords – asked regional peacekeepers in the country to help him restore order.
But sporadic gunfire continued to ring out across the sprawling riverside capital, home to 600,000 people. For a fourth day running, the city was without electricity.
"We have been patrolling for two days in an effort to stop the pillaging," a senior officer from the roughly 1,000-strong five-nation regional force Fomac told Reuters.
"Things are slowly getting better but we are far from being able to say things are normal," he added.
Fomac commanders have been trying to persuade Seleka leaders to get their fighters – a ragtag group of mostly northern rebels, many of them children – off the streets and into barracks amid concerns they were responsible for some of the looting.
Djotodia pledged to name a power-sharing government and to set elections after three years in an attempt to defuse international criticism of the coup.
The removal of Bozize, who himself seized power in a coup backed by Chad in 2003, was the latest of many rebellions since the poor, landlocked country won independence from France in 1960. Bozize has fled to neighbouring Cameroon.
As rebels approached, France made it clear it would not intervene; Paris has long said that its days as "Africa's policeman" have passed.
Bozize turned instead to South Africa, which has been trying to boost its influence in the resource-rich territory.
"This is a complete disaster for South Africa," said Thierry Vircoulon, Central African specialist at the International Crisis Group. "They did not at all understand they were backing the wrong horse. They did not consult within the region."
Seleka took a series of towns and came close to the capital last year, after accusing Bozize of failing to honour an earlier peace deal to give its fighters cash and jobs in exchange for laying down their arms.
Chad and other regional powers sent in troops to back the government and that revolt ended in a January peace accord.
Seleka last week said the government had again failed to implement agreements – to incorporate its fighters into the army and get the foreign troops withdrawn – and started a lightning advance on Bangui.
Despite rich deposits of gold, diamonds and uranium, the Central African Republic remains one of the world's least developed nations.
The Security Council called on all parties in the current unrest to refrain from acts of violence against civilians.
In a statement issued last night, the Council strongly condemned the recent attacks by the Séléka rebel coalition, as well as the ensuing violence and looting which resulted in several deaths and injuries to South African soldiers,  deployed to maintain peace and dissuade rebels from seizing power at the behest  of the CAR Government.
The Council emphasized that "those responsible for violations and abuses of international humanitarian and human rights law, including violence against civilians, sexual and gender-based violence and recruitment and use of children in armed conflict, must be held accountable."
Members of the Council also called on parties to allow safe and unhindered humanitarian access as well as to fully respect international human rights law.
Fighting flared up again in CAR in December 2012 when the Séléka rebel coalition launched a series of attacks. The fighters took control of major towns and were advancing on Bangui, before agreeing to start peace talks under the auspices of the regional group known as the Economic Community of Central African States (ECCAS).
A peace agreement was reached on 11 January in Libreville, Gabon, resulting in a ceasefire agreement and creating a government of national unity in which opposition figures were given key posts, but the rebels claim the Government is failing to live up to its commitments.
Yesterday, the African Union (AU) suspended the CAR's participation in all its activities, and sanctioned the Séléka leaders, noting that their actions violate the recent as well as previous agreements reached in Libreville and jeopardize the precarious stability in the country.
Members of the Council called for the restoration of the rule of law, constitutional order and the implementation of the Libreville agreements, and recalled that according to these, the Government of national unity is in charge of holding legislative elections.
They also reaffirmed the role of the ECCAS in facilitating the implementation of the agreements with the support of the AU, and said they would monitor the situation closely.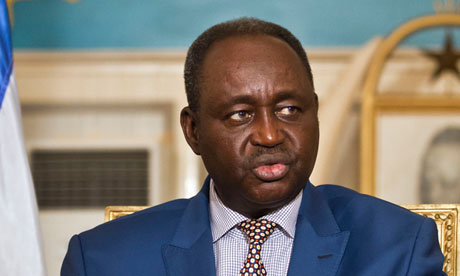 UNICEF) warned that children in the country are increasingly vulnerable as thousands have been left without adequate access to basic services in the wake of the rebels' attacks.
"Most vulnerable are children who have lost their home, have been separated from their families, or were formerly associated with armed groups," said UNICEF spokesperson Marixie Mercado. "Lack of access over the past months has been a huge block to humanitarian efforts. Roads are blocked; there is presence of armed groups and the risk of pillage. UNICEF offices in Kaga Bandoro were completely looted," she told a news conference in Geneva.
The agency said in most of the rebel-controlled areas, health activities have been disrupted while many schools have been closed or taken over by armed groups. Nearly 14,000 children are expected to suffer from life threatening malnutrition following the looting and closure of nutritional centres.
Ms. Mercado also warned that UNICEF has received reports that rebel groups and pro-Government militias have been actively recruiting children into their ranks.
Thirteen South African soldiers were killed in the Central African Republic as rebels seized the capital over the weekend, President Jacob Zuma has said.
Mr Zuma said the South Africans had died in a nine-hour "high-tempo battle" against the "bandits" in Bangui.
South Africa had about 200 troops stationed in the city to block Seleka rebels from seizing power.
Ousted CAR leader Francois Bozize has fled to neighbouring Cameroon, officials there have announced.
President Jacob Zuma says he is "deeply saddened" by events
Following the rebel takeover, the African Union has suspended CAR and imposed sanctions on Seleka's leaders.
"The council asks all member states to take the measures necessary to completely isolate the authors of this anti-constitutional change of power," said AU peace and security council chief Ramtane Lamamra, adding that this includes travel restrictions and an asset freeze on Seleka's leaders.
Rebel leader Michel Djotodia said he was now in charge but would uphold a peace accord that promised elections in three years.
He also said the existing power-sharing government – headed by Prime Minister Nicolas Tiangaye, an opposition figure – would remain in place.
"We are not here to carry out a witch-hunt," Mr Djotodia told Radio France Internationale (RFI).
Rebel 'surrender'
However, another rebel leader, Nelson N'Djadder, told Associated Press news agency that he did not recognise Mr Djotodia as the new leader of CAR.
"We had agreed that we would push to Bangui in order to arrest Bozize and that we would then announce an 18-month transition, a transition that would be as fast as possible and not one that would last three years," Mr N'Djadder told AP from Paris.
"I have enough soldiers loyal to me to attack Djotodia. I am planning to take the Wednesday flight to Bangui."
Looters and armed gangs roamed the streets of Bangui after Mr Djotodia's forces captured the presidential palace on Sunday.
Tens of thousands of people have fled CAR into neighbouring Democratic Republic of Congo and Cameroon in recent days, the UN refugee agency (UNHCR) says.
Mr Zuma said just over 200 South African troops had battled more than 1,000 rebel fighters.
"They fought a high-tempo battle for nine hours defending the South African military base, until the bandits raised a white flag and asked for a ceasefire," he said.
"Our soldiers inflicted heavy casualties among the attacking bandit forces."
Thirteen South African troops were killed, 27 wounded and one was unaccounted for, Mr Zuma said.
'Mercenaries'
It was the highest death toll South Africa's army had faced in a single battle since white minority rule ended in 1994, correspondents say.
The BBC's Milton Nkosi in Johannesburg says Mr Zuma's government must be worried that one of the most powerful armies in Africa had suffered heavy casualties at the hands of a rebel group.
It was bewildering that South Africa had sent troops to CAR as part of a bilateral agreement with Mr Bozize's government, rather than through the AU, he says.
The South African National Defence Force Union (Sandu), which represents soldiers, said Mr Zuma should recall troops immediately, "even if it entails launching a military offensive to relieve our troops in distress", its national secretary Pikkie Greeff said.
But Mr Zuma said South Africa planned to reinforce its troops in CAR, as there was "no reason" to leave.
South Africa sent 200 troops in January out of a planned deployment of 400, Mr Zuma said.
Last week, Seleka denounced the South African forces as "mercenaries" and demanded their withdrawal.
Mr Djotodia told RFI that free and fair elections would be held within three years, as outlined in the peace agreement signed with Mr Bozize in January.
The deal collapsed last week when Seleka withdrew its members from the government.
The group accused Mr Bozize of running a parallel administration and failing to honour key aspects of the deal, including the release of political prisoners.
UN Secretary-General Ban Ki-moon condemned the rebel seizure of power and called for "the swift restoration of constitutional order".
On Monday French troops guarding Bangui's international airport accidentally killed two Indian citizens and wounded a number of Cameroonians, the French defense ministry said.
The French soldiers shot at three vehicles approaching the airport after firing warning shots and themselves coming under fire, a statement said.
France doubled its military detachment at the airport to around 600 troops on Saturday in order to protect French citizens as rebels approached Bangui.
CAR, which has a population of about 4.5 million, has been hit by a series of rebellions since independence from France in 1960.
Civil servant in the government of Ange-Felix Patasse, overthrown by Francois Bozize in 2003.
Appointed by Mr Bozize to a diplomatic post in Sudan
Falls out with Mr Bozize and launches a rebellion in 2005
Arrested a year later in Benin, where he was exiled
Released after promising to make peace with Mr Bozize, but re-launches rebellion
Appointed defence minister in January 2013 under peace deal
Quits government in March and seizes power