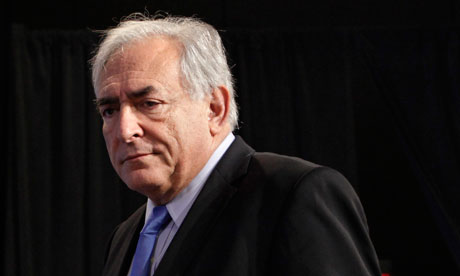 IMF head Dominique Strauss-Kahn, who has been arrested and charged with sexual assault and attempted rape. Photograph: Yuri Gripas/Reuters
Talks on resolving the European debt crisis have been plunged into disarray after the head of the International Monetary Fund, Dominique Strauss-Kahn, was arrested and charged with sexually assaulting and attempting to rape a maid in a New York hotel.
Strauss-Kahn, 62, was taken from the first class cabin of a Paris-bound Air France flight at JFK airport by plainclothes officers then formally arrested on charges of a criminal sexual act, attempted rape and unlawful imprisonment.
The charges threaten to create a leadership vacuum at the IMF, overseer of the global economy, and throw open next year's French presidential election, ending the hopes of the French Socialist who was favourite to beat Nicolas Sarkozy.
The allegation is a major embarrassment to the IMF, which has authorised billions of dollars of lending to troubled countries and played a major role in the eurozone debt crisis.
The arrest will cast a cloud over the IMF's role in addressing the rescues and is likely to have an impact on stock markets as traders react to yet more uncertainty in Europe.
Strauss-Kahn had been flying to Europe to discuss the worsening European debt crisis. He had been scheduled to meet the German chancellor, Angela Merkel, on Sunday and European financial ministers on Monday and Tuesday.
He was to have discussed how best to tackle Greece's worsening debt crisis and finalise Portugal's €78bn bailout package.
A senior Greek government official said the arrest would not change the IMF's policy in Greece but could cause delays in the short term. The IMF-led bailout has become increasingly unpopular with other IMF members amid growing doubts about the Greek government's ability and resolve to meet the commitments of the international aid package.
The IMF said on Sunday that it "remains fully functioning and operational". The deputy managing director, John Lipsky, would step in as acting chief and another official would attend today's meeting in Brussels.
"Mr Strauss-Kahn has retained legal counsel, and the IMF has no comment on the case; all inquiries will be referred to his personal lawyer and to the local authorities," said a spokesman.
The case threatens to throw the spotlight on Strauss-Kahn's reputation in France for targeting women, something alluded to but hushed up in the press.
On Sunday night Anne Mansouret, a Socialist councillor, alleged on French state TV that her daughter, the novelist Tristane Banon, had been the victim of an attempted sex attack by Strauss-Kahn in 2002 but had not gone to police.
Mansouret claimed Strauss-Kahn had "a kind of addiction, a difficulty in controlling his impulses, which is a problem". She claimed his "preying" on women was a kind of "violence".
Strauss-Kahn's allies said he was a well-known seducer but the allegations of attempted rape seemed far-fetched and unlikely.
The 32-year-old hotel worker at Manhattan's Sofitel, near Times Square, told police she entered Strauss-Kahn's room to clean it at around 1pm on Saturday. He allegedly emerged from the bathroom naked, ran after her and dragged her into a bedroom where he began sexually assaulting her on the bed.
According to the police account of the "brutal" attack, he locked the door to the suite, then dragged her down a hallway into a bathroom where he assaulted her again.
The woman escaped from the room and was later treated in hospital for minor injuries. Police found Strauss-Kahn had left his room seemingly "in a hurry", leaving behind personal items including his phone.
He was detained by police at 4pm on a flight about to take off for Paris. A spokesman for the hotel said the woman had worked there for three years, and was "completely satisfactory in terms of her work and behaviour".
New York police said the maid later picked Strauss-Kahn out of a lineup, the Associated Press reported.
Dominique Strauss-Kahn
Born 25 April 1949 in Paris
Attended France's prestigious Institute for Political Studies (Sciences Po)
Becomes finance minister in 1997
Loses bid for Socialist Party presidential candidacy to Segolene Royal in 2006
Selected IMF head in 2007
…..Throws French politics in turmoil?
The arrest of IMF chief Dominique Strauss-Kahn on sexual assault charges has plunged France's Socialists into turmoil and thrown wide open the race for the presidency.
France was mesmerized on Monday by TV images of a handcuffed Strauss-Kahn, a center-leftist viewed until now as the frontrunner for the 2012 election, being led away by police for DNA tests over the alleged assault in a New York hotel.
His lawyers said Strauss-Kahn would plead not guilty to charges that he tried to rape a chambermaid at the hotel after chasing her, naked, down a corridor and trying to lock her in a room.
While politicians from all parties said Strauss-Kahn, popularly known by his initials DSK, should be presumed innocent until proven guilty, political commentators were unanimous in pronouncing the last rites on his political career.
"One thing is certain: Dominique Strauss-Kahn will not be the next president of the French republic," the conservative daily Le Figaro said in an editorial.
"In the space of 15 days the new idol of the French left has exploded. Such a swift disintegration has rarely been seen," editorialist Paul-Henri du Limbert wrote.
Strauss-Kahn's arrest is a big setback to the opposition Socialist Party, which kicks off its primary in July as part of its campaign to win its first presidential election in 24 years.
"The Socialists have lost the candidate who was riding high in the polls … (and was) the best placed to beat (President) Nicolas Sarkozy," wrote the left-leaning Liberation newspaper. Its headline said: "DSK Out."
DAMAGING IMAGES
Before his arrest, Strauss-Kahn had been the subject of mounting media commentary on his lifestyle. Critics accused him of a fondness for women, an easy relationship with money and a luxury lifestyle that sat uneasily with his Socialist credentials.
Liberation published comments he made at the end of April when he said the three most difficult issues for his presidential bid would be: "Money, women and my Jewishness"
"Yes I like women … So what? … For years there's been talk of photos of massive orgies, but nothing has ever come out …. So, let them show them," the paper quoted him as saying.
Political commentators said pictures of Strauss-Kahn being led away by police in handcuffs would make it all but impossible for the former finance minister to run for the presidency.
Tele commentator Michael Darmon said the arrest was a boost for former Socialist Party boss Francois Hollande, and that current party chief Martine Aubry was "not ready" to throw her hat into the ring, although others could join the race.
"Only one person has said 'I am ready psychologically', since 2008, and that is Francois Hollande," he said. But he added: "There are others who could come out of the woodwork and make themselves heard, like Laurent Fabius for example."
Fabius, a former Socialist prime minister and finance minister, said at the weekend the party was losing touch with working class voters, a move Darmon interpreted as Fabius testing the waters for a possible bid.
Senior Socialist leaders are due to meet on Tuesday to discuss the crisis.
The Les Echos business daily said centrists like former ecology minister Jean-Louis Borloo might also benefit.
On the right, Sarkozy's UMP party kept a low profile. Some saw Strauss-Kahn's legal woes boosting the chances of the unpopular president, but others suggested that Hollande's cleaner image could make him a greater threat than DSK ever was.
"On paper, the affair seems to relaunch the chances of the head of state, whose re-election seemed, even for many on the right, impossible," Les Echos said.
But one close Sarkozy aide told the paper: "Strauss-Kahn was the easiest adversary. He wiped out Sarkozy's faults."
guardian.co.uk