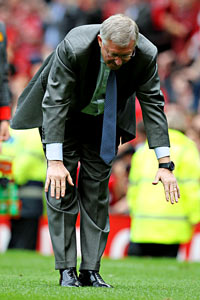 Sir Alex: Time now for a bow of honour as Man U is set for another cracker? Here, Sir Alex took a well-deserved bow at Old Trafford on Sunday. Next up: finding a way to defeat Barcelona in the Champions League.
Is it OK to give this Manchester United squad its due now, or do we have to wait until it adds the Champions League title to its engorged trophy case?
Only a few months ago, that statement would have had the men in white coats arriving to take me away, but after the midweek blitzkrieg of Schalke and Sunday's dismantling of Chelsea, is it really insane to imagine that United can beat Barcelona, especially if it was to score 36 seconds after the opening whistle?
And yes, I know the tired litany of knee-jerk United criticisms.
Hell, I've written many of them myself. How they're a shadow of their swashbuckling predecessors.
How their midfield, in particular, has all of the creativity that one associates with Stoke City.
How their manager is an insufferable, self-righteous blowhard who intimidates referees into awarding his team penalties and extra stoppage time.
And while there are elements of truth in all of the above, it doesn't change the fact that the Red Devils are within a Ryan Giggs chest hair of claiming their record-breaking 19th championship and realizing Ferguson's obsession of "knocking Liverpool off their bloody perch" as the English club with the most top-flight league titles.
Which is why Sir Alex Ferguson's post-game celebration, normally restricted to a little Scottish jig in the arms of his assistant Mike Phelan, was so joyfully unhinged on Sunday.
Not only was there satisfaction at his team's triumph over its fiercest rival, but when Ferguson bowed toward the Stretford End, which had been bellowing "Are you watching, Merseyside?" since United's early thunderbolt, it was his way of saying
"This is for you because you believed in us when no one else did."And he's right.
Though Old Trafford has been an impenetrable fortress for United this season — 17 wins, one draw in the league — it has seen its share of tediously efficient displays that were redeemed only by last-minute miracles, causing pundits such as Gary Lineker to haughtily scoff, "Well, they haven't looked like champions, have they?"
But on Sunday, the Red Devils lit up the Theatre of Dreams with a first-half performance every bit as electrifying as the vintage efforts of the '99 Treble winners and the 2007-08 Cristiano Ronaldo-fueled champions. It was such a show of overwhelming superiority against the defending EPL champion and Champions League quarterfinalists that even Barca's smug Iberian bums must have been twitching.Not that Ferguson was thinking of Messi & Co when he approached the game. His respect for Chelsea's power and defensive strength caused him to focus on the Blues before United even played its second semifinal CL leg against Schalke last Wednesday. By resting virtually all of his key players for that match, he ensured they'd have fresh legs for the EPL title showdown. But even Sir Alex couldn't imagine his team would be so caffeinated that they'd open the scoring in the first minute.
Conversely, Carlo Ancelotti could not have predicted that Chelsea would wait nearly a half hour before even bothering to show up at Old Trafford.
The Italian won the Double in his first year at Stamford Bridge, but this was probably his last big match in England because being a decent man and a good manager simply aren't enough to satisfy King Roman's dreams of European domination.
And Chelsea's late-season resurgence that saw it claw back from a 15 point deficit on March 1 to a position where a win over United on Sunday was hugely relevant, almost certainly won't prevent Ancelotti from being exiled to the Abramovich gulag, either.
Given the Blues' recent form and the fact that they had won their last league clash with United, a fractious 2-1 victory at Stamford Bridge that featured a goal from the impressive Brazilian centerback David Luiz, Sunday's potential title decider was expected to be a tense, taut affair.
But at Old Trafford, Luiz barely had time to shake his Sideshow Bob curls at the away fans before he was on his backside and United was ahead.
Ryan Giggs, who at 37 seems twice as influential as he was at 25 when he was tearing down the wing for United's treble winners, ignited the move with an incisive pass through the center to Park Ji-Sung.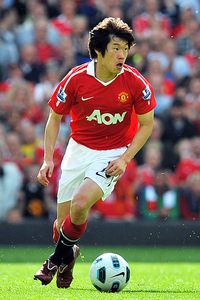 ANDREW YATES/AFP/Getty ImagesPark Ji-Sung personifies the ethos of this United side by making up for a lack of panache with a lung-busting work rate.
As a young boy, Park was forced to drink boiled frog juice to supply him with growth nutrients.
After Sunday, he should look into opening a concession stand at Old Trafford.
The Korean midfielder put in one of the most devastating midfield displays of the season, turning up everywhere to win 50-50 balls or make a critical interception.
But it was Park's first touch of the ball that proved his most decisive contribution. Seeing Javier Hernandez Hernandez lurking on Luiz's shoulder, he measured a defense-shredding pass into Sweet Pea's path.
In a split second, Hernandez skipped past Luiz's flailing challenge and slotted the ball beyond Petr Cech for his 20th goal of his magnificent debut season.
A talented $25 million defender had been torched by a predatory $8 million striker and on the sidelines the normally stoic Ancelotti, perhaps sensing that both Chelsea's title hopes and his job security had been dealt a lethal blow, raged at Luiz.
The former Benfica star was not the main culprit on United's second goal in the 23rd minute — that honor went to Branislav Ivanovic — but he did nothing to stop Nemanja Vidic from powering a header off a Giggs cross, either.He was subbed off at intermission in favor of his fellow Brazilian Alex, as much for his hapless display as for the purported injury he picked up late in the half.Oddly, with Chelsea trailing by two goals, Ancelotti chose to change a defender and a midfielder, which speaks volumes about how little faith he has in his $81 million striker Fernando Torres.
When he finally did bring Torres on in the 62nd minute, El Nino was greeted with thundering boos from the Old Trafford faithful, no doubt remembering how the Spaniard used to torment United in his first couple of seasons at Liverpool.But this was a Torres shorn of his Merseyside swagger and there was no sign of the man who once claimed he owned Vidic and Rio Ferdinand.
Though Chelsea pulled a goal back while he was on the field, he had nothing to do with it.Instead, he snatched at his one clear shot at goal and pulled it wide.
His other 18 touches, at almost $11,000 apiece, were yet another dismal return on the more than $180,000 a week that Chelsea gifts to him.
The fact that the game's outcome was technically in doubt until the final minute was only because United had been so wasteful in its shooting with Wayne Rooney, who oozed menace all game, unable to convert any of his half dozen opportunities.
Still, though the scoreline suggested otherwise, Chelsea got schooled, the final indignity coming right at the end when Antonio Valencia nutmegged Ashley Cole to the delight of the crowd that was now chanting "We are United, we do what we want."
And when they do what they want as impressively as they did on Sunday, you have to wonder whether Sir Alex will be bowing to the United fans at Wembley on May 28.
By David Hirshey
Special to ESPN.com
His Archive
David Hirshey has been covering soccer for more than 30 years and has written about the sport for The New York Times, Time, ESPN The Magazine and Deadspin.
He is the co-author of "The ESPN World Cup Companion" and played himself (almost convincingly) in the acclaimed soccer documentary "Once in a Lifetime."