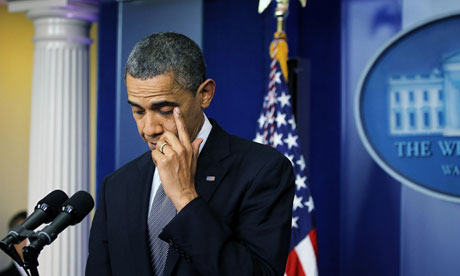 United States President, Barack Obama fought back tears on Friday as he became emotional  consoling the families of a gun killer who eliminated 28 innocent  lives in quick succession in an American elementary school. The 28 dead victims included the school principal, the psychologist and at least 20 students.
As the president spoke in solidarity with the mourners, he called for immediate action to prevent similar occurrence in the future.
At least 28 people were killed at Sandy Hook Elementary School in Newtown, Conn., earlier on Friday and  the dead incluse the mother of the gun man.
"As a country we have been through this too many times. Whether it is an elementary school in Newtown, or a shopping mall in Oregon, or a temple in Wisconsin, or a movie theater in Aurora, or a street corner in Chicago — these neighborhoods are our neighbors, and these children are our children," he said in a press briefing at the White House. "We're going to have to come together to meaningful action on this, regardless of the politics."
The suspected shooter in Newtown was originally identified by media outlets as Ryan Lanza, but an official later identified the suspected gunman as Adam Lanza, Ryan's 20-year-old brother, according to the Associated Press.
Obama shed tears while discussing those children, saying they "had their entire lives ahead of them, birthdays, graduations, weddings, kids of their own." He said he was also heartbroken for the parents of surviving children who were forced to live through the incident.
He said he and his wife, Michelle, would hug their two daughters even closer Friday evening and encouraged Americans to do what they could to help. "We've endured too many of these tragedies in the past few years, and each time I learn the news, I react not as a president but as anyone else would — as a parent," he said.
"In the hard days to come, the community needs us to be at our best as Americans, and I will do everything in my power as president to help," he said. "Because while nothing can fill the space of a lost child or loved one, all of us can extend the hand to those in need, to remind them that we are there for them, that we are praying for them, that the love they felt for those they lost endures not just in their memories, but also in ours."
Obama ended his remarks with a quote from the Bible, as he often has in similar situations: "He heals the brokenhearted and binds up their wounds," a line from the Book of Psalms.
The suspect in the Connecticut school shootings is Adam Lanza, 20, the son of a teacher at the school where the shootings occurred, a law enforcement official said Friday. A second law enforcement official says the boy's mother, Nancy Lanza, is presumed dead.
Adam Lanza's older brother, Ryan, 24, of Hoboken, N.J., is being questioned by police, said the first official. Earlier, a law enforcement official mistakenly transposed the brothers' first names.
Both officials spoke on the condition of anonymity because they were not authorized to speak on the record about the developing criminal investigation.
The first official said Adam Lanza is dead from a self-inflicted gunshot wound.
According to the second official, the suspect drove to the scene of the shootings in his mother's car. Three guns were found at the scene – a Glock and a Sig Sauer, both pistols – and a .223-caliber rifle. The rifle was recovered from the back of a car at the school. The two pistols were recovered from inside the school.
The official also said Lanza's girlfriend and another friend are missing in New Jersey.
Meanwhile, former Jersey Journal staff writer Brett Wilshe said he has spoken with Ryan Lanza of Hoboken, who told Wilshe the shooter may have had Ryan Lanza's identification.
Ryan Lanza has a Facebook page that posted updates Friday afternoon that read that "it wasn't me" and "I was at work."
-HuffsPost

A HISTORY OF VIOLENCE: AMERICA'S WORST SCHOOL MASSACRES  
1. Virginia Tech – 32 dead plus the shooter, 16 April 2007, Blacksberg, Colorado
Student Seung Hui Cho, 23, killed two students in a dorm and then went through building of classrooms armed with two handguns, shooting at random before killing himself.
2. University of Texas – 16 dead plus shooter, 1 August 1966, Austin, Texas
Former Marine sniper Charles Whitman, 25, armed with an arsenal of weapons shot victims from the observation deck of the campus tower.
3. Columbine High School – 13 dead plus two shooters, 20 April 1999, Littleton, Colorado
Students Eric Harris, 18, and Dylan Klebold, 17, opened fire outside the school killing students and one teacher before shooting themselves in the library.
4. Red Lake High School – 9 dead plus shooter, 21 March 2005, Red Lake, Minnesota
Jeffrey Weise, 17, goes on a shooting spree at Red Lake High School killing nine people, including his grandfather, before shooting himself.
5. University of Iowa – five dead plus shooter, 1 November 1991, University of Iowa
Gang Lu, 27, a graduate student from China killed five with a .38-caliber revolver. He was apparently angry because his doctoral dissertation had not been nominated for an academic award.
6. Amish schoolhouse massacre – six dead plus shooter, 2 October 2, 2006, Nickel Mines, Pennsylvania
Charles Carl Roberts IV, 32, executes five girls aged 7 to 13 before killing himself in a small Amish schoolhouse
7. Jonesboro – five dead, 24 March 1998, Jonesboro, Arkansas
Mitchell Johnson, 10, and Andrew Golden, 8, took seven guns to school and pulled the fire alarm and shot students as they headed for the exits. Four died plus a teacher. The pair were sent to a juvenile detention center and released in 2005.
8. Cleveland Elementary School – five dead plus shooter, 17 January 1989, in Stockton, California
Patrick Edward Purdy entered a schoolyard and opened fire with a semiautomatic rifle at Cleveland Elementary School. Five children died and 30 others were wounded including one teacher. He then shot himself.
9. University of Arizona – three dead plus shooter, 28 October 2002, University of Arizona
Robert Flores, 40, a nursing student shot an instructor in her office before entering a classroom and killing two more teachers before committing suicide.
10. Kent State University – four dead, 4 May 1970, Kent State University in Ohio
National Guard troops killed four students who took part in anti-war protests on the campus of Kent State University in Ohio.